New Romance and Fiction In The Garden
Click on covers for more information and to purchase
When it comes to husbands, Madison Clark's track record is the thing of nightmares. Twice widowed, she's given up on happily ever after. Still, with two young boys to raise, a stable family life is all she really desires. Cop turned movie idol, Adam Pride longs for a family of his own, not the irresistible woman and her two sons who are quickly working their way into his heart. But when Madison unknowingly lands in a desperate killer's cross-hairs, Adam puts his career—and life—on the line to save her. Can he protect her from a deadly threat and win her heart? Or will a shocking revelation destroy their fragile love?
IT specialist Claire Holmes begins her stay at Deerbourne Inn to rejuvenate after her sister's tragic death. In a week, she'll start her dream job and embark on a whole new journey. But a leaky pipe leads to an unexpected reunion with the sexy plumber she had a blind date with a year ago. His dominant air calls to her slumbering submissive side. Vowing to be bold, she invites him to lunch...in hopes of maybe a little more.

Dominant Josh Hawkins has it all—a successful hardware store and the beginnings of a new BDSM club. He doesn't realize he's missing someone to share it with until Claire bursts into his world and shows him that her submissive tendencies are just what he needs in his life, even if for only a week. His risky proposal to explore the spark between them could ignite an inferno that neither can quench…
The Kaius vampires have long relied on Mikhail's empathic skills to help maintain the peace. Incessantly pummeled by the vibes of his bloodline, Mickey teeters along the narrow wall separating his emotions from those of his hauntmates. Preoccupied with preserving the harmony of the haunt, he's never been drawn to a woman…until now.

Audra Verdi, a psychologist pulled from the bloodslave quarters, finds herself straddling a thin line herself—between the ingrained ranks dividing the vampires from the women in their sphere. She fights to survive and establish her place in a world she's determined to change. The sensitive vampire intrigues her mind…and her heart.

When one of their own is captured by human authorities, Audra joins the hauntmates on a cross-country rescue mission. Will she find the real Mickey underneath all the swirling feelings or will the archaic customs of vampire society send her running?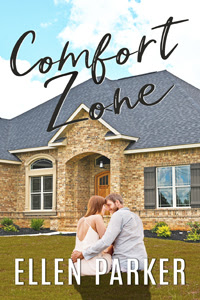 HVAC tech, Janet Zwingel has too much on her plate to clutter her life up with a man. Her daughter is engaged, and with a mortgage due each month, she has to maintain her job status quo.
Police detective Rich Taylor lost his wife two years ago. His friends are urging him to date, but he's not interested. Well, not until he meets the intriguing woman who fixed his A/C.
Just when he thinks anything is possible, life throws him and Janet a curve-ball. And a dead body could keep them from having a future together.
In 1885, Emelia Stone and her sister must learn to operate their deceased parents' bakery in a small town in Pennsylvania. A large mortgage looms on their family home. When her sister leaves town, Emelia is forced to handle the bakery and burden alone.
The Pennsylvania Railroad is searching for the perfect dessert for its passengers. Joe Sawicki, owner of Sawicki Brothers Ice Company, is certain Emelia can win the contest and the hundred- dollar bonus if she creates a special ice cream to accompany her popular huckleberry pies. He has loved her since they played hooky in grade school to explore the company's ice cave.
Can Emelia find courage to stand up to the town's bully to win the competition? And will Joe have the mettle to express his undying love and win first place in Emelia's heart?