Click on covers for more information and to purchase
No matter how far you run, you can never really escape a haunted past.

Darrell Henshaw—teacher, coach, and paranormal sensitive—learned this lesson the hard way. Now, with his job gone and few options, he heads for Cape May to coach a summer football camp. The resort town, with gorgeous beaches, rich history and famous Victorian mansions, might just be the getaway he needs. Only, no one told him Cape May is the most haunted seaport on the East Coast.

When a resident ghost, the Haunted Bride, stalks Darrell, begging for his help, he can't refuse, and joins forces with Cassie, another sensitive. As Darrell and the street-wise teen investigate the bride's death, they uncover something far more sinister than a murder. Can Darrell and Cassie expose those behind the crimes before they end up becoming the next victims?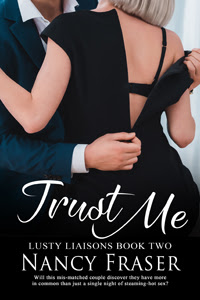 Tax consultant Katherine Weller isn't ready for a relationship after a divorce that left her empty. But when her best friend suggests she set up a sex-only date through Lusty Liaisons, a unique and exclusive dating service, she's uncertain but intrigued. Maybe a hot romp with a sexy, younger man is exactly what she needs to take that confident first step into her new life as a single woman.
First-term U.S. Senator Lance Michaels resists his campaign team involving his high school reunion in a re-election bid. He prefers keeping politics separate from his personal life. But his planned brief visit at the event goes awry when he runs into Kate Taylor.

In the guise of a visiting alumna, Kate works undercover in order to jump from tabloid reporter to mainstream media. To succeed she must uncover dirt on the senator before the November election.

Their attraction burns hotter than a Washington scandal and could put both their careers in jeopardy. When the smoke clears, nobody can guess who will be left standing.
Breanna Casey has only ever wanted two things in life: to race and to get the hell out of Arkadia, Texas. Stifled beneath her family's turbo-charged reputation, she's got her thumb firmly on the self-destruct button. A night of hyper-driven racing and rebellion leads to a one night stand with the one guy who knows how to press all her buttons: Noah McKay.

Torn apart by the toll of his high-intensity enlistment in the Marines and guilt-ridden by what he's seen, Noah McKay left the military to find peace. A chance encounter sends him working for the parents of a raven-haired Amazon goddess with a tongue that cuts sharper than any knife. Quiet is the last thing he'll get.

Finally, she gets her chance. Calloway Racing wants her to drive for them. But that's not all they want. A good friend of her father's, Calloway insists she take Noah along for the ride. Suddenly, her dreams are feeling more like a nightmare. Will they be able to help each other, maybe even find love, when living life full tilt boogie?
Claudia Molina lives a calendar-driven life, every day the same, to protect her heart. A broken marriage and her son's death have made her wary of men. She has her pristine house, her book club, and her accounting job—which includes a most untypical client.
Blake Campos lost his management position three years ago after a nasty divorce, and now he's a truck driver. Women are only a momentary pleasure and motorcycles are for fun and for helping others while he's set on getting another corporate job.
Until the day they meet…