New Romance and Fiction In The Garden
Click on covers for more information and to purchase
The Reiver's Cub
$5.99
Ten years ago, Bess Mowatt promised to guard her newborn cousin from his father, Aleck Maxwell. Called the Reiver Wolf, Maxwell is the scourge of the Scottish marches, and no fit guardian for a child. But when the keep where Bess and the boy live suddenly comes under Maxwell's protection, she has nowhere to hide.
Aleck doesn't quite believe the tale he was told, that his son died at birth. His head tells him one thing, and his heart another. While protecting the keep from marauders, he makes a connection with Bess's young charge. But Bess stands in the way, a woman who is also a warrior, a protector who needs his protection. Can he persuade this fiery woman to accept his help? Will a lie told long ago stand in the way of their love?
The Fog Ladies: Family Matters - A San Francisco Cozy Murder Mystery


$4.99 Till death do us part, with kitchen shears. What drives a family man to kill his wife? This question haunts Sarah James, a medical resident who meets the unhappy family at a resort near Big Sur. She witnesses how ugly a marriage can be. But murder?

Sarah and the spunky Fog Ladies--elderly neighbors from her San Francisco apartment building--set out to discover the truth. Their probing finds the threat is perilously close to home, as another troubled family struggles to survive.
A Woman Scorned


$4.99 Life changes dramatically for Libby McKenna when a body is found at Fairway to Heaven, the iconic golf course she runs. Murdered Chairman of the Board Mickey Warren had enemies. These included a 'starter' ex-wife, the angry current wife, a deceived girlfriend, and the disgruntled business partner. Plus a bevy of 'buddies' resented Mickey's creative scoring when playing a round.

When new sheriff Riley O'Connor asks for Libby's help, she agrees. But snooping around quickly becomes hazardous for her health. Can Libby find the truth before the killer scores another hole-in-one?
Enigma Variations - The Justin Vincent Series


$4.99 Master thief Justin Vincent and his computer hacker partner Ashna help people recover stolen items when the authorities can't. This time, their client needs his missing research notes back—notes that could help provide the solution to a century old musical mystery. The trail is cold, but the motive is clear: a £1 million reward offered to anyone who can decode the secret message hidden in Sir Edward Elgar's Enigma Variations. Justin and Ashna come up against a mystery steeped in arcane lore lurking behind what they thought was a simple case of theft and a shadowy foe who seems to be a step ahead of them at every turn. Will they be able to identify the thief and retrieve the formula before its dark forces are unleashed on an unsuspecting world?
What a Rich Woman Wants


$4.99 Lesley Robinson is forced to step up and take control of her father's Fortune 500 company after his debilitating stroke. Because she also just adopted a baby and divorced her cheating husband, she hides her pain and uncertainty behind an icy exterior.
After Niko Morales clawed his way out of gang life, he found a career in law enforcement. He meets Lesley when he applies for a grant for the community center he wants to create. His passion is helping disadvantaged youth, and he will do almost anything to make his vision a reality.
When Lesley asks him to escort her to elite social functions in exchange for her help, he knows he won't fit in but is unable to resist her offer. Even though they are worlds apart, Lesley can't resist Niko's warmth and understanding. But their relationship poses a threat to others, and if Lesley and Niko aren't careful, they could lose each other forever.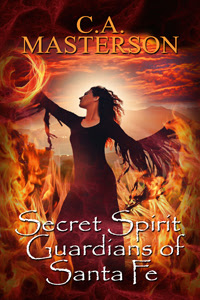 Secret Spirit Guardians of Santa Fe


$5.99 After Marissa Tahy returns home to Santa Fe, she is haunted by visions and glimpses of danger no one else sees: Old Man Gloom in his true form. For over a century, people have burned their troubles in the spirit's effigy at the Zozobra festival, making the spirit angrier and more powerful.
This year, Old Man Gloom demands his due. The vengeful spirit targets those Marissa loves.

Even when Marissa discovers the secret history binding her family to Zozobra, joining their forces may not be enough to prevent the furious spirit from burying Santa Fe beneath an avalanche of misery.