New Romance and Fiction In The Garden
Click on covers for more information and to purchase
Karolina Dalca, Dark Eyes
The Dark Eyes
$4.99
Blindsided by an attack that destroys her home and blamed for murder, Karolina Dalca, a half-vampire, escapes, only to plunge into the magical societies from which she was sheltered.

Betrayed by those around her, she abandons her dreams of becoming an investigator and flees, trusting only herself. Her police internship would never prove more useful. Hoofing it through the wilderness, she makes it to her university dorm, disheveled but delightfully deflowered.

Enter a full vampire: one wielding dark magic and a ride out of Canada. A fugitive from the law, Karo complies with his demands to escape, unsure whether his requests are bewitched. She vows to clear her name and avenge her mother's death, but Karo's family secrets aren't so easily left behind.
Broken Toys
$4.99
Texas Ranger Noah Morgan has his life together—with a great job and the girl of his dreams. Too bad it's all based on a lie. A single phone call threatens to bring it all crashing down. After an irate citizen complains shoddy workmanship has left him with a booby-trapped driveway, and the local sheriff's office is too busy to respond, Noah takes the call. The investigation of local scam artists uncovers a human trafficking ring. Noah fights to avoid being swept back into the sights of his murderous family—people he escaped at the age of seventeen.

Can he keep his past a secret or will his carefully crafted life come to a violent end?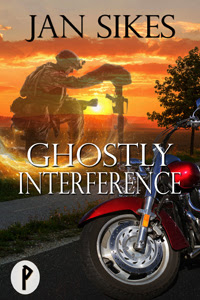 Ghostly Interference
The White Rune Series
$5.99
Jag Peters has one goal in his quiet comfortable life—to keep his karma slate wiped clean. A near-miss crash with a candy apple red Harley threatens to upend his safe world. He tracks down the rider to apologize properly. Slipping into a seedy biker bar, he discovers the rider isn't a "he", it's a "she", a dark-haired beauty.

Rena Jett is a troubled soul, who lives in a rough world. She wants no part of Jag's apology, but even while she pushes him away, she is attracted to him. When he claims to see a ghost—her brother—can she trust him? And could her brother's final gift, a magical rune stone with the symbol for "happily ever after" have the power to heal her wounds and allow opposites to find common ground—perhaps even love?
A Chance with a Mountain Man
Smoky Mountains Love
$1.99
Stressed-out, overworked wedding planner Darlie McBride spends more time on her brides than on herself. When her friend convinces her to vacation at a cabin in the Smoky Mountains, she finds an unexpected feature. Sexy mountain man Chance Duran offers to make her mountain memories unforgettable, and Darlie is more than ready to get naughty. Things get hot enough to melt winter and stay that way.
Civil War Life
A Plains Life
$4.99
During the perilous years of the Civil War, life-altering events challenge the Hewitt family living in conflict-weary Kansas. Throughout the war, runaway slaves appearing at the farm put the family at constant risk from lawless bounty hunters. The young couple Billy and Elizabeth wonder if the time is right to marry and start a family. Billy and Mark face almost certainty that they will be called upon to fight, leaving behind everything they've worked so hard to establish.

As the present looms menacingly over the Hewitt family, the future that held so much promise is now filled with fear and uncertainty. Will courage and love be enough to see them through? Only time will tell.
Deadly Commandment
$4.99
Escaping a disastrous love affair, successful Silicon Valley techie, Alyssa Manchester pounces on the chance to settle a long-lost relative's Parisian estate. Buried amidst hordes of junk in the apartment, Alyssa unearth s a trove of priceless artifacts—and a partial journal revealing evidence of her great-aunt's secret World War II identity.

Like his father before him, police investigator, Anton de Ville, hunts for treasures stolen by the Nazis. He suspects Alyssa's aunt knew more than she would ever admit. Undercover as a baker, he uses Alyssa's passion for pastry and a winning smile to wheedle his way into her apartment. But he becomes attracted to the beautiful American, and the lies about his identity jeopardize their budding relationship.
Hoping for More
Deerbourne Inn
$2.99
Dr. Daniel Stevenson, professor of history at the University of Vermont, is a popular guest speaker at the Willow Springs Community Center. But that's not the only reason he keeps returning to the small town. He's strongly attracted to the assistant librarian who coordinates the programs. So far, they've been good friends, but his upcoming scheduled talk provides the perfect opportunity to take their friendship to a serious commitment. He's just not sure if the other man he's seen her with is only a friend or someone special in her life.

Wynne Buchanan is looking forward to a certain shy professor's community center presentation about a murder committed in Willow Springs almost a century ago. Their friendship these past four years has meant the world to her, but every time she thinks they're moving toward a serious relationship, he pulls away. She's determined to find out why during his upcoming visit, because she's hoping for more…so much more.