New Romance and Fiction In The Garden
Click on covers for more information and to purchase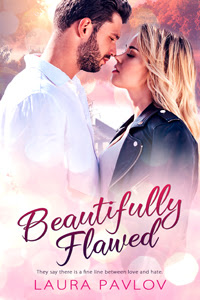 Beautifully Flawed (Shine Design Series Book 2) $5.99

Elle Fiore wants a prince on a white horse. Maverick Wallace does not fit the description.
It doesn't matter they shared the best kiss of her life, or her friends think he walks on water...and his Greek-god looks have absolutely no effect on her whatsoever.
If only she can convince her heart he's not for her.

Maverick is happy with his free and easy no-strings lifestyle. The last thing he wants or needs is someone complicated like Elle. He doesn't do relationships or sleepovers. She's beautiful, but a diva with a capital D.

But something magical happens whenever they're in a room together, whether they want it to or not.
Ghosts Just Want to Have Fun (Adventures in Ghostsitting Book 6)

$1.99 Mel Hargrove is getting married to her fiancé, Becker—on a night when all her relatives, both living and dead, can attend—Halloween. The bride and groom to be are hosting the entire town at their nuptials. And as a treat for the ghosts attached to her junkyard, she is allowing them a night out. What could possibly go wrong?
Famous last words. Her cousin shows up with an agenda of her own, and the portal between worlds slams shut with a noise loud enough to wake the dead. Mel and Becker must figure out what went wrong and how to sneak in their vows before all Hell breaks loose.
Kitsune Enchantment


$3.99 On the verge of losing her job, Shannon leaps at the chance to sell her graphic novel series to a major publisher. If only she could trust her reclusive artist partner, Ryo, to show up for editorial meetings at the science fiction convention they're attending. She'd love to have a closer relationship with Ryo, but how can she count on a man who keeps disappearing with the flimsiest of excuses?

Ryo feels the same attraction to Shannon, but he isn't sure how she'd react to the truth. He's a kitsune—a fox shapeshifter—prone to transforming at awkward moments. Furthermore, a bungling amateur sorcerer is stalking him. When the wannabe wizard follows him to the convention, Ryo's secret, liberty, and budding romance with Shannon are all threatened.
By Promise Made


$4.99 Hugh Cullane, accused of murder and sentenced to hang, is forced to deliver a message of betrothal to four-year-old Queen Mary of Scotland. He faces death yet again when, in rejecting the proposal, the queen's guardian orders his severed head sent back to England in a jar.

Trained to protect her queen at all costs, Katherine Payne can show no mercy to the handsome messenger, despite the way his stolen kiss unsettles her single-minded sense of duty. Trapped between the English and Scottish armies, she must escape with Mary. Hugh joins her as they are chased by men determined to murder the young queen in their own quest for power.
Echoes in the Storm (The Echo Series Book 2)


$4.99 A melancholy Darla Hennessy struggles to be happy for her best friend in her role as the maid of honor in her fairy-tale wedding. A last-minute wedding party change pairs Darla with her ex-boyfriend, rocker Eric Boyd. Now, she has to face him, and the realization that he's happily moved on without her.

Having to be near the ex-girlfriend who dumped him, even for only a few hours, sours Eric Boyd's mood. The appearance of another of her exes, who seems interested in a reunion with Darla, and her responsive attentiveness only amplifies Eric's anger. All he wants is to get this weekend over with, head home, and nurse his broken heart.

When the groom goes missing, Darla and Eric put aside their animosity to work together to search for him. But their quest leads them into danger. Will this once-loving couple overcome their resentment and admit their love? Or will they perish before they come to their senses?