Click on covers for more information and to purchase
Tempting Fate


$4.99 Carrie Thomas arrives in Las Vegas with one goal in mind: land The Grand Portofino Casino account. So getting stuck, twice in one day, with the hottest man alive puts more than a little crimp in her plans. Especially when she learns the man she's craved since their accidental tryst in the elevator is her new client.

Jack Dillon is at the top of his game. Burned by women in the past and consumed with building his empire, falling in love is the last thing on his agenda. But when Carrie walks into his life, all bets are off. Too bad she's determined to keep their relationship strictly business.

But Jack is used to getting what he wants. And he wants Carrie. Two weeks of giving in to their desires and fun in Sin City. It's an offer she can't refuse. Can they mix business and pleasure, or are they just tempting fate?
Twisted Lies


$5.99 Athena Cooper's tragic past drives her to seek solace in a bottle. The addiction threatens her legal career, and she risks spiraling out of control. When her dog engineers a meeting with an all-too-handsome hunk, it's lust at first sight…until she discovers his identity.

Businessman Russell Crawford is desperate to find the woman who cheated him out of his inheritance. His shock when she's the gorgeous redhead he'd met briefly is only intensified when she claims his father was a murderer.

Athena and Russ declare a truce and join forces to investigate the mystery of her parents' disappearance from an isolated island off the rugged Northwest Coast of British Columbia. Along the way, they uncover long-buried secrets that rock her very foundation. Can she overcome a lifelong distrust and open her heart to love?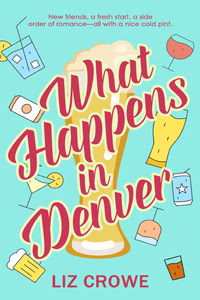 What Happens in Denver


$5.99 Meet Andi Rigby. She and her husband own a famous bar. Andi can mix a cocktail, change a beer keg, soothe ruffled customers, and drink you under the table. Life is good until the day she finds herself divorced and unemployed. After a suitable period of ice-cream and whiskey infused mourning, she heads to a beer conference in Denver on a mission to rediscover her joy and find a new job.

Between fielding gossip, saving a drunk woman from herself, and dodging a hot but ill-advised boozy hookup, the weekend leads to a few surprises. She ends up employed with an unexpected bonus—a new friend. Oh, and the guy she kissed? Turns out her new job includes selling his brewery's beer. No big deal. Except the bit about him being practically perfect for her at a moment she's determined to focus on her own success.

A story of new friends, fresh starts, and a side order of romance served up with a nice cold pint.
Redeemed by Fire
The Fire Chronicles
$5.99
Cassanne Thomas returns to New Orleans to start her life over and becomes the target of a supernatural serial killer. Escaping her close call with death, Casi is the only witness to the crime and finds herself placed in protective custody by a handsome Cajun detective. But with her dark, troubled past, trusting the police is the last thing she wants to do.

Detective Lucas Avery, the top homicide detective in NOLA, is unaware of the supernatural world surrounding him. With the killer stalking the streets, he vows to shield the beautiful, enigmatic Casi with his life while fighting his growing attraction to her. He's been burned before.

Danger chases Lucas and Casi from the streets of the French Quarter to the wilds of the bayou. Will they be able to stop a monster, straight out of a nightmare or become victims themselves?
Tempt Me, Trust Me
$5.99
Damaged by her past, Morgan Fletcher moved to a quiet cottage in rural Montana wanting solitude and a fresh start. The very last thing on her mind was allowing someone new in.
Ex-convict Nick Evanoff didn't need anyone. After his time in prison all he wanted from life was to train and rescue horses. But the moment he spots Morgan something explodes in him that he never felt before.
Could Nick work the same magic on her as he did the horses he rescues? Could he teach her that it was safe to trust?
No Plans for Tomorrow
$4.99
How can she make plans for tomorrow when she might not live through today?

Carmen Santiago can't escape her tenacious ex-husband. He tracks her everywhere, even to a small mountain community where she hoped to find some peace.

Local mountain sheriff, James Thomas, vows to protect Carmen to prove good men still exist, but Carmen's dangerous confrontation with her ex at a mountain overlook rocks the very foundation of his growing feelings. She endangered his daughter, and for that, he will never forgive her.

How can Carmen convince James of the truth when her only defense is trapped inside a little girl too afraid to speak?