Click on covers for more information and to purchase
Downstate Illinois


$4.99 Middle-aged romance novelist Weston Payley moves from Chicago to the small Illinois town where he summered as a boy. He's looking for a simpler life, but instead finds complications, like beguiling single mom Rebecca. As their affair heats up, Weston becomes embroiled in a murder investigation. Suddenly this sleepy town turns into a hotspot of danger and passion. So much for a fresh start… Weston's new life might now come to a sudden end.
Body Conscious


$4.99 Mortician, Lily Reynolds is used to seeing bodies, but not the type murdered in her own funeral home. As Detective James Rivers zeroes in on her as the town's number one suspect she must rise above the accusations and rumors to solve the case herself while keeping her attraction to the troubled detective at bay. James has a past. The last time he let someone into his life she wound up dead. Vowing never to let that happen again he has sworn off dating for good. Until he meets Lily. In his gut he knows she's not the murderer but pressure to solve the case puts him on the wrong trail while he struggles to keep Lily off the case. Can she solve the case on her own or will their scandalous romance get in the way of proving her innocence?
A Winter Rose
$5.99
Widow Eliza struggles to raise her young daughter and run her Washington state flower farm. Julien, a charming amputee with a knack for business, stops his road trip to help her out of a tight situation. A Southern native, he has no intention of sticking around a sleepy farm town. Eliza's grit and dedication warm Julien's wounded heart, but can they look beyond a business partnership and see the beauty of second chances?
Warwick's Mermaid
$4.99
Having escaped an abusive relationship, Chloe MacGregor is determined to put the past behind her. The little cottage high up on the cliffs overlooking the beautiful North Yorkshire town of Whitby is her safe haven, somewhere she is free to be herself.

When the arrival of her new neighbor and boss, Luke Warwick, threatens her peaceful, sheltered life, Chloe is forced to confront her past and to re-evaluate who she really is. Falling in love with Luke is not part of her plan but, to her surprise, Luke is falling for her too. The only thing preventing their happy ever after is Chloe herself. Will she ever truly learn to leave the past where it belongs?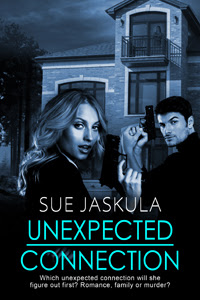 Unexpected Connection
$4.99
Confident and resilient homicide detective Jennifer Scott is instinctively suspicious when her best friend's life is disrupted by the arrival of an unbeknownst twin sister. When a murder coincides with her appearance, the mysterious twin becomes the prime suspect.
Adding confusion to Jen's organized life is another unexpected intrusion, her handsome and sophisticated new partner, Detective Luke O'Connor. As mischievous as he is charming, chemistry between the two intensifies, threatening Jen's reputation and testing her limitations.
As the murder investigation unfolds, the detectives are forced to back-burner their heated connection while they race against time to figure out what other long-lost family members may be involved, how they're connected to the twins and why they've surfaced now.
Wild Blue Yonder
Broken Wings
$5.99
Air Transport Auxiliary pilot Doris Winter is accused of stealing a valuable item from a famous Hollywood movie star, now a captain in the US Army Air Corps, after a dance at the air base in England where he's stationed. Gathering her close friends together, she's determined to clear her name.

Ruth's POW son suffers a life-changing injury just as her own cottage takes damage in an air raid and Penny's estranged little sister unexpectedly turns up, having run away from school. Together with the ongoing thefts of items of clothing and surprise personal revelations, these all threaten to hamper their investigation.

In spite of the worsening war situation, they must band together to rise above their troubles and prove love and friendship is worth fighting for.