Click on covers for more information and to purchase
Until...


$5.99 When Talmadge Hammond drifts into the Idaho mining camp he has no intention of using his law degree. He's there for whiskey and the gold he can win at cards. Instead, he must save the life of the woman who'd once vowed to love him until…
Noletta Kittridge begins that day covered in a man's blood and accused of murder. She has sinned to stay alive. Redemption can come only by giving her life to save the person who accidentally killed the man. Even Tal's reappearance in her life can't revive Letty's will to live.
Determined to keep her from the hangman's noose, Tal must either convince her to tell who did kill the victim or solve the mystery himself. If he fails, he and Letty will finally reach that unvoiced destination beyond until…
Shadows of Doubt


$4.99 Former grade school bully and, later, amateur drug dealer Jeff Hudson turns his life around and is pursuing a degree in agriculture. His future, as well as a budding relationship with fellow student Sandy Harris, is threatened when a former dealer threatens to expose Jeff's past to university authorities if he doesn't rejoin the ring.

Realizing that Jeff is no longer an angry, misunderstood boy, Sandy must take a stand against her family and friends who swear he is no good and will only cause her unhappiness. Together, can they escape the past in order to forge a future?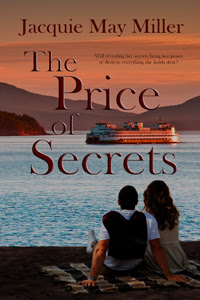 The Price of Secrets


$4.99 When Jamie Crandall left Seattle for college twenty-five years ago, she was pregnant. Her mother demanded that she abort the child or get the hell out of Seattle and never come back.

Jamie chose the latter, using her scholarship to UC Berkeley to disappear with the son she refused to abort. But now, everything has changed. Her mother has died, and Jamie is coming home to face the father of her son.

Reuniting her son and his father will come at a high price though…Jamie has one more secret left to reveal.
Chocolate Raspberry Magic
One Scoop or Two
$3.99
Prim and proper Trinity Shilo is the assistant manager for Salem's Wildlife Sanctuary. She hasn't had much luck in the boyfriend department, but the new employee Paul is different. Deep and brooding she sees something special hidden below the surface. Besides she has secrets of her own.
Paul Thorp is a wounded Special Forces veteran now working in security and computer support. He's fought hard to keep his demons in check and for the first time feels he is ready for a real relationship.
When a fire breaks out at Puffin Cove Rescue they are called in to help with the recovery and ice cream social fundraiser. Sometimes things are not what they seem, and neither are people. When magic is unleashed will what they learn bring them closer together or push them apart?