Click on covers for more information and to purchase
The Fog Ladies: In the Soup
A San Francisco Cozy Murder Mystery
$4.99
The Fog Ladies are back, in the third installment of this endearing cozy murder mystery series.

"There was a man in the soup." When the Fog Ladies volunteer at a San Francisco soup kitchen, these spunky elderly friends plus one overworked young doctor-in-training envision washing and chopping and serving. Not murder. Now the soup kitchen is doomed, and the mysteries have just begun. Was the death rooted in a long-ago grudge? Can they save the soup kitchen? Will they find the killer? Could the Fog Ladies, too, end up "in the soup"?
The Roast
$4.99
Tess has loved Adam for over ten years, but tonight, he's on his way to the altar with somebody else. Tess is left wondering how the situation got this far. When her friends throw a roast, they attempt to convince Tess she doesn't need Adam. With the help of strong friends and stronger drinks, she begins to believe she can move on from Adam. But drinks also reveal truths that could change her friends' minds about Adam and his true devotion.
Was Adam tricked into marriage by a woman with fiancée-itis? Lamenting is fruitless and frustrating. Does Tess have one last chance to fight for the love of her life?
By Mortal Slain
Deputy Kyle Shaw Mysteries
$5.99
By 1298 the iron sword of English oppression has sunk deep into the heart and soul of the Scottish populace. Deputy Kyle Shaw is not surprised when an English nobleman is murdered in a Scottish tavern. Was the man's death part of a rebel plot or was he killed for a more sinister reason?

When Kyle comes across another murdered English nobleman, he begins to wonder if a seer's prediction may hold the key to the untimely deaths. And a possible plan to assassinate the king.
The Texan's Favor
$4.99
Ambushed, Texas Ranger Jake Fontaine's a dead man until a Kansas spinster raises her shotgun in his defense. Despite the rogue lawman's obsession to bring in his brother's killer, duty demands he escort her to the next town.

Kat Collins is a thief, though an honorable one. She's on the run from controlling kin and aims to escape her past. Traveling with Jake offers the perfect cover—until her uncle finds them sharing a campfire and imposes his own kind of justice—a wedding.

Marriage will cost Jake his freedom, but refusing may cost him his life. Kat figures he's bound to recognize her on a wanted poster. Would sharing passionate nights in his arms be worth the peril?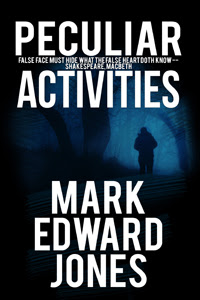 Peculiar Activities
A Henry Ike Pierce Novel
$5.99
Junior Detective Henry Ike Pierce is hired to reassess cold-case killings. On the third day of his new job, a dismembered body appears in a local park. The corpse's desecration is like slayings from over two decades ago, and his boss assigns Henry to his first investigation. He must uncover the present-day killer while his boss pushes him to resolve crimes from the past.

Henry seeks a killer within a community of rival ethnic groups, refugees from the 1990s Balkan wars. Rumors point to a killer called 'the hooded one.'

As his investigation unfolds, the young man from western Virginia's coal country discovers that 'trust' has a flexible definition.
A Daughter of the King
$5.99
Paris, 1663. King Louis XIV sanctions a program to send destitute women to Quebec to settle his new colony. They are called, "Daughters of the King." Jeanne Denot is one of them. Of noble birth, she assumes a false identity and boards a ship to Canada, narrowly escaping death at the hands of those closest to her. But when Jeanne encounters a mysterious stranger onboard, the course of her life is altered forever. After braving turbulent seas and hardship in the New World, she decides to risk everything to reclaim what is rightfully hers.