Click on covers for more information and to purchase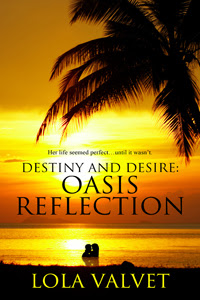 Destiny and Desire: Oasis Reflection


$3.99 A winter vacation is just what Amy Russo needs after her ugly divorce plus losing her best friend. Her plan is to avoid complications, relax, and heal. Instead, Parker Allen, a sexy Southerner in the tropics for work, ignites a torrid passion she tries to deny. The unmistakable lust and desire between them forces her to choose between focusing on healing or exploring naughty pleasures with an unexpected stranger. Maybe she can do both.
Hometown
Hearts of the Ridge
$5.99
When Tessa's big-city plans take the A Train to disaster, she lands in her sleepy hometown, smack in the middle of the
most unlikely love triangle ever to hit Pennsylvania's Amish Country.

Hot-shot Dr. Richard Bruce is bound to Green Ridge by loyalty that runs deep. Deeper still is Jonas Rishel's tie to the land and his family's Amish community. Behind the wheel of a 1979 camper van, Tessa idles at a fork in the road. Will she cruise the superhighway to the future? Or take a slow trot to the past and a mysterious society she never dreamed she'd glimpse from the inside?
A Hero's Second Chance
$4.99
After losing her husband in the line of duty, Riley Logan looks for a fresh start in Magnolia Springs. However, a fear of rejection makes relationships difficult. Lieutenant Colonel Brian Stone returns home from the Middle East after losing his legs to an IED. The last thing he wants is to be treated like a hero—or pitied for his injuries.
While working on a charity event benefiting injured veterans, they find they have more in common than a talent for snarky comments. But when Brian is offered an opportunity too good to refuse, Riley must decide if she can risk losing another man to a dangerous job.
The Dark Side of Tranquility
$4.99
Tranquility, a planet from a distant sun, is peaceful. The gobblers, Tranquility's bird-like natives, are reserved but friendly, allowing the religious group–The Followers of the Seer–to escape persecution on Earth.
Clara, a seventeen-year-old Follower, lives a blissful life inside the Followers' complex. Her peaceful life suffers a sudden turn when her father falls gravely ill during a blackout. The settlers' Communication Center, the Beacon, has its own power source, and Clara must reach it to save her dad's life.
The mongrels, Tranquility's best-kept secret, have launched a rebellion. Rem, a young and proud mongrel, hates everything about humans. When Clara and Rem cross paths, Rem wants to kill her. However, as hell breaks loose, and they must work together to survive, Clara stirs some unexpected feelings within Rem. Can love flourish amongst fire and rubble?
No Room at the Inn
Deerbourne Inn
$3.99
Hollywood starlet Livy Randolph faces a difficult decision, so she flees to Willow Springs to contemplate her future.

Carlos Ramos, a local contractor, yearns for a wife and children. When he meets Livy, he loses his heart, but learns she's not who she claims to be.

The year is 1958. Civil Rights issues surface on the evening newscasts but in Willow Springs, Vermont life seems peaceful. That is, until prejudice rears its ugly head.

Will this unlikely pair find a way to put their differences aside, stand up for their beliefs, and admit their futures may not be what they intended? Only time, and a bit of Willow Springs magic, will tell.
As the Page Turns
A Blue Cove Mystery
$5.99
Peyton Reynolds has no idea that the gorgeous summer day she is enjoying is about to take a strange turn and embroil her and her boyfriend Jaxon Kincaid in another case. As the details emerge, it won't take long for them to understand there is nothing normal about the murder Peyton has witnessed. An erratic suspect, a gathering of ghosts, and Peyton's sudden disappearance will leave Jaxon scrambling for answers in the pages of a book left behind. They will have to think outside the box with help from the past to solve this one.