Click on covers for more information and to purchase
Cherry Red
One Scoop or Two
$2.99
This summer, ice cream entrepreneur Carly Redd's only focus is expanding her business—until she's coerced into attending her ex's engagement party. Showing up without a date is unthinkable. She reluctantly agrees to be escorted by her brother's co-worker, although doing so breaks her rule of not dating firefighters.
The daughter of the town's fire chief should wear a Do Not Touch sign, but firefighter Noah Harding's interest blazed the moment he saw Carly. Agreeing to be her fake boyfriend is a no-brainer, but convincing Carly to trust him with her heart is harder than extinguishing a fire.
Overstepping the platonic-only rule is as dangerous as fire and ice swirling into a tempting combustion.
Frogman's Response
$4.99
Matthew Shaw is banned from his school's online counseling forum. Is it a crime his advice posts and anarchy blog are more popular than those on the school website?
Though he's being as sincere as possible, Matthew, posting as "Frogman" online, wreaks havoc at Henry Blake High with advice that causes breakups, instigates a cheerleader fistfight, and turns a school assembly into an angry mob.
When Matthew's private notebook goes missing, he worries not only about blowing his secret identity but about being suspended and ruining his shot to escape Mom's hoarding house.
Keeper of My Dreams
$4.99
Reid Haliburton, a skilled gunsmith, resolves to keep his revolutionary handgun away from those who would abuse its power. But a vicious pirate decides the gun will be his. The price of refusing is Reid's life and those of his three young sons. Reid's only chance to save his sons is to send them away and face the pirate's wrath alone. Widowed Leena Cullane Adair is stunned to find the three lads hiding in her cart. Although she only met their father a week ago, he has wakened her interest in life and love. He holds her heart and her dreams, and she will do whatever it takes to keep him and his sons alive.
The Duke's Dilemma
Dukes in Danger: A Haversham House Romance
$4.99
Miss Linea Braddock is passionate about drawing and Avery, Lord Hammond—not necessarily in that order. Avery, heir to the Duke of Easton and a spy in His Majesty's service, is passionate about his work and Miss Braddock—definitely not in that order.

Between fervid kisses and stolen interludes, they talk of marriage, but Avery stubbornly refuses to propose until he can put his family's famous engagement ring on Linney's finger. When Avery leaves suddenly without even saying goodbye, Linney decides to take things into her own hands and show him they belong together now.

But everything changes when an old enemy resurfaces. Napoleon's spymaster wants revenge for the Corsican's defeat, and his ruthless plan is to get even by destroying everyone close to Avery—especially the woman he loves.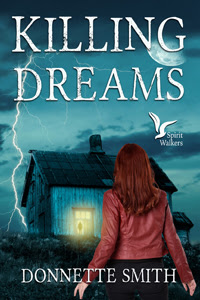 Killing Dreams
Spirit Walkers
$4.99
A serial killer is on the prowl and psychic Jenna Langley is an 'eye' witness to each death. The one man she dares turn to is homicide detective Cole Rainwater. But the last time she saw him was when their teenage love affair ended in tragedy.

Cole would give everything to forget he ever knew Jenna. Until she strolls back into his life after ten years and rapidly becomes the center of a horrific set of murders which have rocked the small community he calls home.

With a maniac on the loose, and innocent lives at stake, Jenna must decide if helping Cole bring a killer to justice is worth exposing the secret she's kept all these years.
A Pride of Brothers: Aiden
$5.99
Lexi Buckley wants answers about her younger sister's death. The police have labeled it a suicide, but Lexi doesn't believe it. Stymied in her investigation, she doesn't know where to turn next. After a chance encounter with a private investigator, she thinks her prayers have been answered.

Aiden Keane has never been an answer to a prayer before, but he agrees to help Lexi. A quirky combo of brains and beauty, the pixie blonde makes him feel things no professional ever should for a client.

When their investigation puts Lexi's life in jeopardy, her safety becomes his number one priority. The hard part is not falling for her.