New Romance and Fiction In The Garden
Click on covers for more information and to purchase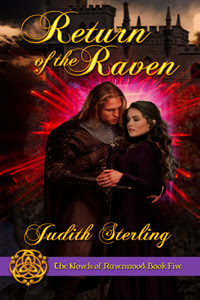 Return of the Raven
The Novels of Ravenwood
$4.99
Margaret, Lady Ravenwood, is trapped in a loveless marriage and firmly entrenched in the medieval world. Along comes Griffin Nightshade, a historian from the future whose soul resonates with hers. He persuades her to return with him to the 1950s, but heeding her heart means courting danger from a curse that could spell her doom.

Haunted by his parents' sudden deaths, Griffin knows all too well the pain born of love lost. He guards his emotions, but Margaret delves deep and goes straight to the soul. She's hard to resist…and harder to set free.

The heart's desire and history's demands don't always agree. Yet true love is eternal.
Gone Astray
$4.99
A heart attack sends detective Rory Naysmith reeling. Too young to retire, he accepts a position in small-town Winterset, Nebraska. Handed an unsolved truck hijacking case, with the assistance of a rookie, Rory sets out to prove he is still able to go toe-to-toe with younger men. When the body of a Vietnam veteran turns up, he dons his fedora and spit-shines his shoes. But before he can solve the murder, an older woman disappears, followed closely by a second hijacking. He doggedly works the cases, following a thread that ties the two crimes together. But can Rory find the mental and physical strength to up his game and bring the criminals to justice before disaster strikes and he loses his job?
Love Leads the Way
$4.99
Single mom Tessa Shore runs a successful leadership program at work and supports a mother with dementia. She can handle any challenge in her jam-packed schedule as long as nothing spins out of control…especially her feelings.
Engineer Mark Delaney is an expert on pipelines at the same company, but his interpersonal skills need a makeover. Advancing to an executive job requires enrollment in a leadership course he doesn't think he needs.
When their professional and personal issues entangle, life at the office gets a lot more complicated. Romance is impossible…or is it?
Love Leads the Way
$5.99
Maelle Woolley, a shy botanist, prefers plants to people. They don't suddenly disappear. Raised on her grandparents' commune after her mother's mysterious death, she follows the commune's utopian beliefs of love for all. Then she falls for attractive psychiatrist Zachary Kane. When Zachary claims her mother and his father never emerged alive from his father's medical research lab, Maelle investigates. What she discovers will challenge everything she believes, force her to find strength she never knew she had, and confront the commune's secrets and lies. What happened to love? And can it survive?
Home in Wylder
The Wylder West
$4.99
To escape gossip about her disastrous engagement, Sarah Miller flees to Wylder, Wyoming where her aunt owns a dress shop. But the danger she discovers in the wild west has her ready to board the next stagecoach out of town.

Daniel Taylor rescues a damsel in distress only to fall in love with her at first sight. The past has taught him that gentle women don't make Wylder their home. He intends to court Sarah, but braces himself for a broken heart, knowing she will eventually leave town.

When Sarah is forced to face down the men who have tormented her since her arrival in Wylder, she will have to make the most difficult decision of her life.