New Romance and Fiction In The Garden
Click on covers for more information and to purchase
Cupid's Beau
$1.99
Ivy Pierce is a Cupid who prides herself on doing her job well. Except when it comes to a certain human male, Grant Crawford. Each time she's supposed to shoot her arrow into his heart, her stomach hurts, her chest hurts, and she feels….sad. Cupids are never sad.

Humans who are not looking for love only get three chances to find it. And after Ivy sabotages Grant's last chance, her boss, Aphrodite, sends her to earth to right her wrong. She has until Valentine's Day to help him find his soul mate.

But the more she's around him, the more she wants him for herself, even though she knows that can never be. A Cupid and a human? Unheard of.

As V-Day draws closer, can she sacrifice her own happiness to help the man she loves find his?
Rise For Me
$1.99
Vampire and warlock, Roman Lee, spent centuries alone as ringmaster of the carnival. After befriending and healing a scarred, young woman, Roman realizes Mariah is his mate. He waits for her, but when she departs from his life, his torture knows no bounds. Now he's risen, unforgiving and angry, forced from his grave by the one woman who captured his heart, but will another secret and the call of his mate change everything?

The steady call of Roman's blood and the promise of peace brings Mariah Stone home to the carnival and the vampire she left behind. He ignores her until she forces him from the grave with her blood. His anger crushes her already broken spirit, but she is determined to win Roman's forgiveness and free him from their bond. Denied passion leads them down a path of magic and desire, while a devastating secret threatens eternal love.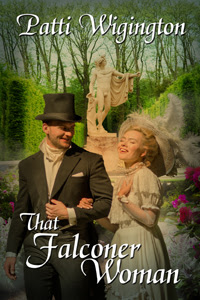 That Falconer Woman
$4.99
Cordelia Falconer is back in England after a fifteen-year absence, just in time for her sister's betrothal to a stickler for propriety. Unfortunately, Cordelia has a scandalous reputation, and her brothers are busy gambling and drinking, so the wedding might not happen at all—unless Cordelia can pretend, for a few weeks, that she's respectable.

Rhys Aubrey is an outsider who doesn't quite fit in with society. He's more than willing to help Cordelia regain her good name, but when her sister is accused of murder, he is determined to solve the mystery, protect Cordelia's reputation, and follow his own heart.

Together, they work to figure out the puzzle. Can they catch a killer in time to save Cordelia's sister from the gallows?
Searching for Closure
A Blue Cove Mystery
$5.99
An Arizona heatwave, a murder, and a ghost searching for closure give Peyton Reynolds all she can handle on her long-awaited vacation. When a body is found at the bottom of the pool of the resort she's staying at, Peyton leaps into action, starting CPR. She stops when she sees the young man's ghost watching her actions. And he's not alone.

Detective Jaxon Kincaid knows that Peyton is hiding something. How did she know the caliber of the weapon which killed the victim? And why is she so nervous and combative when she talks to him? He's fascinated, but wary of this beautiful redhead.

As their attraction grows, and as Peyton inserts herself into his case, can he protect her from someone who seems to want them both dead?
Portia and the Merchant of London
$5.99
After her father's stroke, Portia Gillespie finds they have just enough money to live on, so where is her brother's school tuition to come from? She and Mama have no idea until a moneylender comes to call. In spite of the prior debt, he is willing to lend this year's tuition. The only alternative to accepting the loan is to apprentice Benedict to one of the less expensive trades. Papa would be horrified.

Solomon de Toledo has fulfilled none of his family's expectations. He is neither a rabbi nor a physician, nor even a respectable importer or banker. Still, as a moneylender, he is able to aid Portia, whose character he admires as much as he respects her father's scholarship.

But when her father recovers and arranges Portia's betrothal, how will Solomon save her from her ruthless suitor?
Mine By Design
$5.99
When Abby Markham witnesses the murder of a local cop with ties to a political dynasty, she finds herself not only in the crosshairs of a killer, but also on the radar of a powerful US senator. The clock is ticking for her survival, and Detective Ben Owens knows the best way to keep Abby safe is to keep her close. But as the danger escalates, so does their attraction. With their backs against the wall, Ben and Abby will risk everything to make sure she survives a dangerous web of political corruption, lies, and deceit.