New Romance and Fiction In The Garden
Click on covers for more information and to purchase
Jax Thatcher loves creating stained glass, but love can't pay the bills. After a disastrous relationship, love lands her back in Narragansett with her overbearing parents and a mountain of I-told-you-so's. Broke and brokenhearted, she's forced to abandon her romantic and artistic dreams. Fortunately for Jax, fate is making waves on her behalf.

Sawyer Hennessey, the handsome owner of a generations-old soda fountain, has been burned in love himself. When an accident shatters the stained-glass transom of his shop's front window, Jax splashes into his quiet life.

Suspicious of their growing feelings, Jax and Sawyer can't resist testing the waters. They have a lot to learn about the ripples people make in each other's lives, and how one little drop might lead to an outpouring of love.
Garrett Saunders' world changed two years ago on a road in Afghanistan. Back home, he feels like a stranger. As he struggles to find his place in the world, he meets a horse destined for the slaughterhouse and a woman bent on rescuing the strays of the world, including him.

Blair Greyson moves to Masonville to look after her ailing grandfather and give her rescue horses a home. Right away she butts heads with a surly former Marine. Despite a rocky start, they come to an agreement: Blair will board Garrett's rescue horse and he'll help with repairs around her farm.

Garrett finds purpose working with Blair—and falls in love with her. But she's hiding a secret. Can she forgive herself and accept Garrett's love, or will she let guilt and regret continue to rule her life?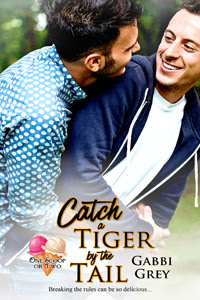 Thomas Walsh knows the number one rule in the film industry. Don't get involved with the talent. But resisting the urge to take the big screen to the bedroom can be hell when the lead actor on the set looks good enough to eat...one slow lick at a time.

Peter Erickson's latest role as a gay man hits a little too close to home. He's still in the closet and secretly grieving the death of his lover. Then an enchanting production assistant catches his eye, and he's surprised by the instant attraction that stirs more than his wounded soul.

When the two men are caught on camera in a very intimate pose, both Thomas and Peter are afraid they've caught a tiger by the tail.
Anna Kelly never intended to return to her hometown of Patience, Tennessee. Feeling powerless after an abusive childhood and left brokenhearted by her high school sweetheart, she'd needed distance between herself and the small town. Eleven years later, she has no choice but to return. Though she feels stronger this time around, nothing can prepare her for seeing her ex again.

After a baseball injury, Jake Lawrence limped back to Patience. He's just getting his life back together again and can't risk sending it back to hell. But the woman who broke his heart has whipped back into town.
Hoping to remind Anna of what she ran away from all those years ago, he makes her an offer she can't refuse.
Cayme Foster returns home to deal with her mom's fatal illness and is faced with memories and secrets she'd rather forget. Her old crush and his adorable eight-year-old son will make it even more difficult to leave town again.

Single dad Rick Morrison had his shot at marriage and isn't willing to risk rejection a second time. If only he wasn't compelled to rescue Cayme whenever he's around her, making it hard to keep his distance.

He's conflicted about helping Cayme save her home, but the truth rises with the floodwaters, and they just might find love on the high ground after all.
When reporter Traci King is captured in cartel territory while doing an undercover story, she will stop at nothing to escape.

Raphael Lopez is a trusted leader of the Night Hawk cartel, but it's his real identity as a deep undercover DEA agent that leaves him in a bind when he captures an American woman in the fields where coca plants are being harvested to make cocaine.

The mission must come first, but he will do everything possible to protect her from the cartel, from herself and her attempts to escape, and from the growing desire between them.