New Romance and Fiction In The Garden
Click on covers for more information and to purchase
One horrible night, Cassidy loses everyone and everything she holds dear. The massacre which took her family left her orphaned and at her uncle's mercy. Her warrior spirit is quickly crushed under his harsh rules and demands.

Lord Ian Hawkins has been cursed to walk the earth as half-man half-demon. When he sees Cassidy, it is the demonic urges that prompt him to save her life and make her his. Yet, no female would want to live the way he does.

Dark secrets and magic mark Hawk and Cassidy's bond. Can they truly trust one another or will the curse Hawk carries condemn them to a life without love?
Stalked and on the run, Julie Roy's life is in shambles. An unexpected detour in a quiet Vermont town ignites a surprising and romantic spark with the local furniture maker.

Joe Bascomb's skill of knowing when to be patient is put to the test when he meets Julie. Her kindness is a gift, yet he senses she is hiding from something or someone.

When Julie's determined stalker comes to town, she is ready to pull up stakes—despite her desire to stay. Joe realizes he will have to break down her fear as well as the walls around her tender heart. Can he keep her from running again in order to give their love a chance?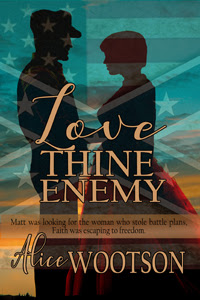 Faith escapes from the plantation where she has lived as a slave all her life. Light enough to pass for white, she disguises herself as a boy and heads north. When soldiers on patrol capture her, their captain discovers they have a female and believes she's the spy he's looking for.

Union Captain Matt Winston has orders to watch for a female spy who has escaped many times and never harmed anyone until now. This time she killed an officer, stole battle plans, and fled.

Faith isn't sure what to fear most, being caught by slave catchers or executed as a spy. When Matt is hit by a stray bullet while taking her to his commanding officer, Faith has to decide whether to help her enemy—or escape.
Taylor Madison has two goals—enjoy her semester break and to forget the past year—that is until she spots Ben Jordan. She's not looking for love from the avowed bachelor, but she isn't opposed to a quick dalliance, either. Soon, though, her heart gets entangled, forcing her to decide whether to play things safe or risk everything on the one person notorious for breaking hearts.

Hot shot, Ben Jordan, has it made. The young police chief of Aberdeen has his pick of women. He plays the game straight—no exchanges of personal numbers and no second dates­. Once he meets Taylor, all his carefully crafted rules are called into question. Now he must choose whether to let his past haunt him or take a chance on a future.